Dreams are answers to questions we haven't yet figured out how to ask.
~X-Files
Lately I have not been sleeping well. I have had an over abundance of dreams. One dream was about my next quilt guild meeting - I didn't have my projects done and I showed up empty handed AND late. Another dream was about tornadoes - and the tornadoes had multi vortexes. I have strange dreams. Last night was full of dreams, many of which I don't remember. I do remember looking at the clock several times during the night feeling sure that it must be time to get up. I know that dreams are supposed indicate what's going on in your life. The guild meeting one I understand - I probably feel under pressure to get things done even though I have over 3 weeks before the next meeting. The tornado? I have no idea. We don't live in a stormy area and I don't think my life is in turmoil. Do you ever try to figure out what your dreams are trying to tell you?
==============================
PHOTO FACT OF THE DAY
Paul Bunyan Day
Today we honor America's tallest folk hero, who hung out with a blue ox named Babe and wore size XXXXXXXXXXL plaid shirts. Paul Bunyan started out as an advertising campaign for a logging company in the early twentieth century, and over time his legend caught on and gained popularity. The story of Paul Bunyan says he was born in Bangor, Maine. It took five giant storks to deliver Paul to his parents.
His first bed was a lumber wagon pulled by a team of horses. As a newborn, Paul Bunyan could holler so loud he scared all the fish out of the rivers and streams. His parents had to milk two dozen cows morning and night to keep his milk bottle full and his mother had to feed him ten barrels of porridge every two hours to keep his stomach from rumbling and knocking the house down.
One winter, Paul Bunyan came to log along the Little Gimlet in Oregon. Ask any old timer who was logging that winter, and they'll tell you that Paul's kitchen covered about ten miles of territory. That stove, now, she were a grand one. An acre long, taller than a scrub pine, and when she was warm, she melted the snow for about twenty miles around. The men logging in the vicinity never had to put on their jackets 'til about noon on a day when Paul Bunyan wanted flapjacks.
Quite a tall tale for this giant of a man!
================================
FREE PATTERNS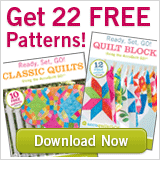 How would you like to receive 22 FREE patterns? All you have to do is sign up for
AccuQuilt newsletters
. Nothing hard about that. They are a great company that is always coming up with new ideas.
Right now they are running a
GO! 4 It Die Sale
that gives you great prices on their cutting dies. And if you buy before the end of the day on Wednesday, June 29, you can get double the rewards points on your order.
Check out AccuQuilt either by clicking on the links above or on the link on my right sidebar.
====================================
MYSTERY BOM
I have started the
Designer Mystery BOM
2011/2012 from Fat Quarter Shop. The first block arrived around the 13th but I'm just now getting to it. Shall we get started?
Here I've cut all of the beautiful fabrics. This years fabrics are all from the
Strawberry Fields collection by Fig Tree Quilts for Moda. They always send an ample supply of the fabric and I've even seen a couple of bloggers that are able to get two blocks out of the fabric sent each month. The colors are so much prettier in person. I guess I should have tried an outside shot but it was just too hot and I was just too lazy - lols.
First I had to assemble four of these blocks. You probably can't guess yet....
And then there were these four simple blocks. Easy enough so far....
And here it is complete. This year won't be like last year where you could actually guess what I was making in the Christmas theme.
This year is to be a spectacular flower garden filled with blooms and blossoms. This cute block is called "Sweet Pea" and was designed by Bonnie Olaveson and Camille Roskelly. I think this will be a fun quilt and if you think you might be interested, you can still join in the fun at Fat Quarter Shop. This BOM only cost $10.99 a month so you certainly can't beat that price. I'm already looking forward to the next block release on July 10th.
=================================
TODAY'S GOAL
Today I will make two swap hexagon flowers and one hexie flower for myself.
=================================
GIVEAWAYS
Amy's Creative Side
is having a giveaway. You could win a Beam n Read. This giveaway ends Friday, July 1.

AccuQuilt
is giving away 22 free patterns just for signing up for their newsletter. Now that's a deal you certainly can't beat.
Creative Confessions
is having a giveaway. You could win 4 coordinated fat quarters, a darling packet of pretty white buttons, all sizes and shades, a make your own fabric covered button kit, and a very lovely pattern from Nancy Halvorsen. This giveaway ends Sunday, July 3.
Buzzing and Bumbling
is having a giveaway (plus Linda has a great tutorial!). You could win 2 patterns of your choice from B. Bumble and Co and Linda's
new little bee pin cushion kit
. This giveaway ends Wednesday, July 6.
KoolBeenz
is having a sponsored giveaway. You could win one of two fat quarter bundles from Fat Quarter Shop. This giveaway ends Friday, July 1, at midnight EST.
Pigtails and Quilts
is having a sponsored giveaway. You could win a
Dottie Fat Quarter Bundle by Moda Fabrics from Fat Quarter Shop. A winner will be drawn on Monday, July 4, at noon EST.
Bluebird's Wing
is having a giveaway. You could win a
FQ bundle of Sew Cherry in yellow by Lori Holt for Riley Blake Designs, or a
FQ bundle of Bohemian Soul in the Freedom colorway by Patricia Bravo of Art Gallery Fabrics, or a
FQ bundle of Lou Lou Thi in the Eleni colorway by Anna Maria Horner for Westminster/Free Spirit, or one of two Moda Bake Shop boxes to make a mini quilt, or a set of
three mini charms of Just Wing It! by MoMo for Moda, or a set of three mini charms of Civil War Reunion by Barbara Brackman for Moda. This giveaway will remain open Sunday, July 3.
Love, Lizzie is having a giveaway. Two winners will win 3 one yard cuts of some very cute IKEA fabrics. This giveaway ends "Thursday, July 1" (not sure if it closes Thursday or Friday, July !).
Canoe Ridge Creations is having a giveaway. You could win 7 Kona Cotton FQ. This giveaway ends Friday, July1, at 10:00 pm CST.
Chasing Cottons is having a sponsored giveaway. You could win a $100 gift certificate, or a $50 gift certificate, or a $25 gift certificate all from Fat Quarter Shop. Three winners will be drawn on Tuesday (tonight), June 28.
Annie's Ruby Slipperz is having her Monday Mystery giveaway. You could win 5 fat quarters in the color of your choice. This giveaway ends Wednesday, June 29, at midnight.
Northern North American Bears
is having a giveaway. Debbie is ready to send the Traveling Stash on it's way. The box is crammed full of all sorts of goodies. Debbie will draw a winner on Wednesday, June 29.
Lisa T's Blog
is having a giveaway. She has the second Traveling Stash to giveaway. Like Debbie's box, Lisa's is also crammed full of lots of wonderful things. This giveaway ends Thursday, June 30, at 9:00 pm EDT.
Would you like to win a table runner kit and a darling pair of embroidery scissors. Check out
MY VACATION GIVEAWAY
today!
=================================
FINAL THOUGHT
The end of the month in is fast approaching. I have every one of my June obligations completed and have even started on some of my July swaps. I would much rather be ahead of the game than trying to play catch-up. This month I felt like I was always running two steps behind after taking those 10 days off from blogging and sewing. But I was never behind or late - I just put myself into that crunch. All swaps were out in the mail before their deadlines and all of my Let's Bee Together and Swap Block Adventure computer work was done in a timely manner. I am still way behind in responding to comments left for my giveaway - I may never catch up with them. I'm will to let that go (maybe) - no matter how much it bothers me
not
to have answered each and every comment for the giveaway. I'm trying to limit my computer time so that I have a little more sewing time. Time to get busy sewing......I hope your week is going along creatively.
The Future is something which everyone reaches at the rate of sixty minutes an hour, whatever he does, whoever he is.
~C.S. Lewis